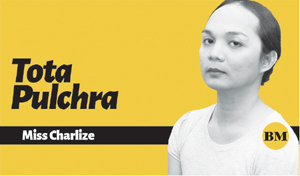 In today's news cycle, it's time to put the spotlight on hot men and away from hot-headed men. Away from that basketballer who ran amok in the court, whose unsportsmanlike behavior deserves national condemnation. And miles away from that anti-LGBT politician, whose backward-thinking bigotry deserves universal derision.
Here's a feast for the senses to tide us over the holidays:
• LOUIS PARTRIDGE This lanky English lad with leading-man good looks, 19, walked for Prada Fall/Winter 2022. I first noticed him as Piero de' Medici in Season 2 of Medici: The Magnificent (2018), along with another eye candy, William Franklyn-Miller as Giovanni de' Medici. His other credits include FX's Pistol (2021) as bassist Sid Vicious, Ferryman (2021) and Apple TV's Disclaimer (2022). Louis rose to fame when he played Tewkesbury in Netflix's Enola Holmes and its currently airing sequel with Millie Bobby Brown. Together, Pinoy fans call them "Tenola."
• JOE LOCKE AND KIT CONNOR These two British sensations are British GQ's Men of the Year. Both 18, they are the breakout stars of Heartstopper, also on Netflix, which the mag aptly describes as "a joyous and proudly uncynical work of mainstream queer representation, geared toward an audience who had never had it in that form before." Locke grew up gay in the Isle of Man, the last place in Britain to legalize homosexuality, in 1992. Connor, however, after being unjustly accused of queerbaiting by netizens, tweeted: "I'm bi. Congrats for forcing an 18-year-old to out himself. I think some of you missed the point of the show. Bye."
• MAXIME BOUTTIER George Clooney and Julia Roberts are adorable as bickering exes in Ticket to Paradise. But it's the French-Indonesian actor-model-musician, 29, who will entice you to book a return trip to the theaters (together with French hottie Lucas Bravo). "With the film, I am kind of taking Indonesia out to the world in a rom-com element," Maxime told The Hindustan Times. "Usually, we have seen it in more of a documentary way. Now, it is more of a bigger-than-life thing, with a mix of Bali."
• WILL SHARPE William Tomomori Fukuda Sharpe, 36, is a British-Japanese actor, writer and director. Known more for comedy, he goes into sexy mode in HBO's The White Lotus 2 as Ethan, who spends a vacation in Sicily with his wife and friends after selling his start-up for millions. The sort-of Roman tragic comedy also stars the hunky Theo James and cutie Adam DiMarco, but it was Will's shower scene that is sending gay Twitter into a meltdown.
• FABIEN FRANKEL As Ser Criston Cole in House of the Dragon, fans swooned over his smoldering looks. As the season progressed, fans were shocked at his incel-like character as he morphed from "knight in shining armor to jerk in shining armor." This thirst for Fabien, 28, is due to his exquisite mix of having a British Jewish father (whose mother was an Indian Jewish from Mumbai) and a French mother. He said he prepared for six months for his scintillating sex scene with Princess Rhaenyra (Milly Alcock), telling Esquire UK: "You wouldn't go into a fight scene without preparing for it."
• GERARD PIQUÉ The dashing Spaniard, one of the best footballers of his generation, after splitting from his pop diva-wife Shakira, announced last week that he is retiring from the beautiful sport at 35, and did so with a red card after battling with a referee in Barca's last game against Osasuna. He won't play at the FIFA World Cup in Qatar later this month. A two-time UEFA Champions League winner and a FIFA World Cup winner by the age of 24, his farewell note says: "Football has given me everything. Barcelona [has] given me everything. You [Barcelona fans] have given me everything. And now that this kid's dreams have come true, I want to tell you that I've decided that now is the time to bring this journey to its end."
• DOMINIC WEST An all-time favorite show is the brilliantly written The Wire (2002-2008), which is regarded as one of the greatest shows on television. It's partly due to the charismatic performance of Dominic as Jimmy McNulty. Virile to the core, he brought loads of testosterone as a playboy policeman in drug-infested Baltimore. He currently stars in Season 5 of The Crown. However, I have to agree with the verdict from Vogue: "Dominic West is far too hot to play Prince Charles."
• JOVY BEQUILLO There are thousands of handsome men who emerged this year from male pageants. One who could easily transition to a showbiz career for sheer star quality is this Naga City model, 27. "When the time is right, I, the Lord, will make it happen." (Isaiah 60:22)—a quote many of you kept reminding me, he wrote after losing a provincial title. "But God always has bigger plans…. my journey still continues. Please continue to support me as I represent the Philippines in Man Hot Star International in Thailand."
• CHRIS EVANS Captain America is People magazine's Sexiest Man Alive for 2022, and the world heartily agrees. But he doesn't want to use the word "sexy" to describe himself, rather more for his native Boston: "We've got a lot of good schools. Let's give education a plug, that's damn sexy."