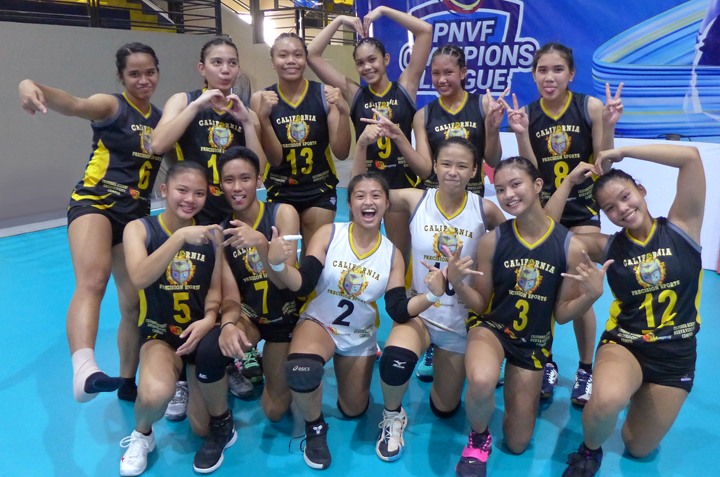 A BUNCH of high-school students made a stunning mark in the first-ever Philippine National Volleyball Federation (PNVF) Champions League in Lipa City on Wednesday.
California Precision Sports (CPS) booked the biggest surprise in the weeklong tournament after slaying Petro Gazz, 18-25, 12-25, 25-22, 25-14, 15-13, to end its campaign with two wins against three losses at the Aquamarine Recreational Center.
Down by two sets, CPS scratched its way back and sent the match to a thrilling fifth set where they completed their upset of the Angels, one of the country's top professional teams who placed third in the Premier Volleyball League earlier this year.
Casiey Dongallo and Jelai Gajero scored 22 points each as the Antipolo-based CPS capped its well-praised participation in the tournament with a 2-3 won-lost card—a major accomplishment for a bunch of senior high-school standouts who were just too good to be true.
Despite the tremendous odds of having to face the country's top professional teams, CPS came well prepared and wasn't in the tournament not as a mere participant.
"Every game is a championship game. We can't treat it as if there's nothing. We need to leave everything on the floor because it is our last game," said skipper Kizzie Madriaga, who had 13 digs and 13 excellent sets.
The 16 year-old Dongallo, who hails from Catmon, Cebu, ended her stint with a league-best 95 points and is expected to contend to become a part of the Dream Team being one of the two best outside spikers in the tournament that has Rebisco, Pitmaster Foundation Inc., Top Speed, 1Pacman Partylist, Philippine Sports Commission and Philippine Olympic Committee as platinum sponsors and F2 Logistics, Asics, PLDT, MVP Sports Foundation and Mikasa as gold sponsors and BCDA, Philippine Red Cross, Lipa City, Davis Paint and Emerald PVC Pipes, Fittings and Doors as silver sponsors with PNVF godfather, Taguig Rep. Alan Peter Cayetano, chairman of the Champions League, giving his full support.
"Compared to outside hitters like Ate Kalei [Mau]…compared to her and the others, they have a better percentages than me," Dongallo said. "But if I will get the award, thank you."
Gajero was also impressive on both ends on the floor and collected 19 digs and 15 receptions.
A solid single block on Myla Pablo, Gajero's second in the match, gave CPS a 10-6 cushion in the fifth set—proof that she has what it takes to become one of the players to watch in the future.
"I'm just trying my best. Our opponents are professional players, so I have to battle it out not only in hitting," the 17-year old Gajero said. "I need to help in passing for the team to have great offense and helping in floor defense."
The Angels were headed for a shutout win after leading 22-19 in the third when Dongallo and Gajero displayed a "never quit" attitude to carry coach Jerry Yee's side to victory.
The loss—the second in four matches—put Petro Gazz in a do-or-die game with the Tuguegarao Perlas Spikers for the bronze medal at 1:30 p.m. on Thursday.
Ces Molina had 22 points, including three blocks, while Grethcel Soltones added 14 points, three blocks, 21 receptions and 11 digs for the Angels.
The games are live streamed over the PNVF official website volleyballphilippines.com, iWantTFC for local and international audiences, Puso Pilipinas and Smart Sports Facebook pages and YouTube channels and Gigaplay.